A couple of fascinating new articles--

From BBC News: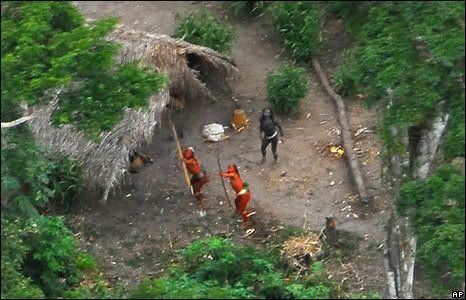 "One of South America's few remaining uncontacted indigenous tribes has been spotted and photographed on the border between Brazil and Peru.

The photos were taken during several flights over one of the most remote parts of the Amazon rainforest in Brazil's Acre region.
They show tribe members outside thatched huts, surrounded by the dense jungle, pointing bows and arrows up at the camera."
From
NYTimes.com
:
"Two monkeys with tiny sensors in their brains have learned to control a mechanical arm with just their thoughts, using it to reach for and grab food and even to adjust for the size and stickiness of morsels when necessary, scientists reported on Wednesday.
The report, released online by the journal Nature, is the most striking demonstration to date of brain-machine interface technology. Scientists expect that technology will eventually allow people with spinal cord injuries and other paralyzing conditions to gain more control over their lives."
...
Wow. Really captivating and beguiling stuff. The world is indeed an incredible place.